With the global COVID-19 pandemic, activities have been highly slowed down. However, Victor in Kenya is trying to keep things moving. Being a field engineer, it is a bit complicated for him to work from home, but during this pandemic, he adjusts and finds ways to ensure that field activities do not stop completely especially for stations that need urgent maintenance – for the data we lose today cannot be readily regained.
From his desk at home, he is able to make a few calls to weather station hosts and remind them to clean the stations or cut the long grass around the weather stations. He is also able to guide the hosts remotely on battery replacement, data access, and simple troubleshooting where problems are not very complex.
From his desk at home, he is also able to organize meetings with his regional assistants and clients. He is also able to develop field tutorials and short videos to ensure that instructions given to station hosts are very clear.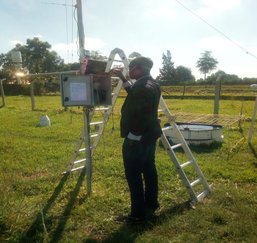 In as much as his daily routine has changed so much, there are situations that require him to go to the field especially when he needs to solve very complex problems. In such cases, he carries with him all the necessary items that will keep him safe during the travel including face masks, hand sanitizers, soap, and water. These trips (very limited) are only made for stations that need critical maintenance for the Ministry of Water and Irrigation in Kenya to support their Flood Early Warning System for the Lower Nzoia Catchment due to recent floods in Kenya.
Most importantly, he heeds to TAHMO's call, to strictly follow WHO guidelines and national directives.
Stop COVID-19, Stay safe.
Written by Eseme Omoit
TAHMO.