TAHMO is working on various aspects: developing a better weather station; educating young people in Africa about climate change by providing schools with an educational program and; developing local business cases with local entrepreneurs to cover the running costs of the weather stations, data collecting and data assimilation to ensure a sustainable future for the project. Last month, some of the TAHMO team members went to Ghana to work on developing business models together with local partners. In two weeks many potential business models have been generated, validated, prototyped, and evaluated.
In Ghana, TAHMO partnered up with a young social enterprise called Farmerline. They are a technology product company building supply chain and value chain solutions to integrate agricultural outputs of rural farmers in Africa/emerging markets. In Ghana, Farmerline will be responsible for 'packaging' the climate data generated by TAHMO into a product that needs to reach 10.000 small-holder cocoa farmers in a year and a half.
Boukje Vastbinder (TU Delft) was asked to help with the kick-off of the business case development and prepared a 4-day workshop to help plan the business case development process. Their findings can be found below.
Business Model Generation (day 1) Discussed our goals (success criteria and criteria of smart failures) and 'designed' 11 business models based on different concepts located in the different steps of the cocoa value chain using the Business Model Canvas by A. Osterwalder, focusing on the core of the business case: WHAT?, WHO? and HOW?
Business Model Validation (day 2) Further developed the concepts by distilling the questions we still need to get answers to, out of our Business Model Canvases and by thinking of ways to validate these questions. This resulted in a plan of approach for every business case which we mapped on the wall to see where we could make smart combinations to save money, time, etc. if we would continue with all these business cases.
Business Model Prototyping (day 3 and following) Fieldwork! We visited a cocoa farm near Kumasi and interviewed the 96-year-old farmer and 54 other farmers in his neighborhood and we set up meetings with many of the other potential partners/clients within the value chain of cocoa we identified like input suppliers (fertilizers, pesticides), credit/insurance suppliers, cocoa grinders, cocoa cooperatives, government, certification institutes, etc. These meetings helped to find answers to our questions and often even resulted in improvements for our business case concepts or even new concepts, which we could add to the wall.
Business Model Evaluation (day 4 – end of the 2 weeks visit) As part of the business development process we ended the workshop by evaluating the validated business case(s) to ensure that the current model(s) will support our plans for growth. We also talked about what could be the next step in the process of developing a viable business case for TAHMO, how to continue the collaborations with all the different parties, and how to report our progress.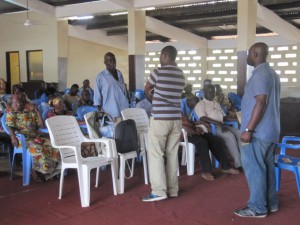 All of these steps were supported by a process of brainstorming and visual thinking. Visual thinking and brainstorming are indispensable to working with business models and we really encourage the teams we have worked with to use visual tools such as drawings, pictures, sketches, diagrams, and post-it notes to construct and discuss meaning. Because business models are complex concepts composed of various building blocks and their interrelationships, it is difficult to truly understand a model without sketching it out. Boukje Vastbinder brought worksheets, post-it notes, and other materials to help with this process.