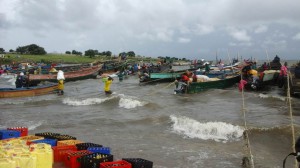 TAHMO, along with 4 partner institutions, has been selected to move onto the second stage of funding from the Global Resilience Partnership Challenge. This challenge focuses on bringing together people and organizations from across sectors to collaborate on innovative solutions for climate change resilience. TAHMO, the lead organization, is working with Earth Networks, Human Network International, Climate Change Adaptation Innovation (CHAI), and African Centres for Lightning and Electromagnetics (ACLE) to create an Early Warning System around Lake Victoria, improving fisherman and sailor safety through accurate and timely severe weather alerts. As this system expands across Uganda, it will provide critical high-resolution weather information country-wide to enable climate-ready response actions by stakeholders in the agricultural, transport, aviation, and public health sectors.
Lake Victoria, a source of livelihood for 35 million people who live along its shores[1], has an estimated 5,000 deaths per year due to drowning[2]. Increasing fisherman and sailor access to early alerts for severe weather which cause dangerous high winds, waves, and lightning, is crucial to reducing the number of deaths on the lake. Additionally, this weather information can be used by multiple entities to strengthen rural resilience to climate change through agricultural insurance, improved farmer planting practices, and informed transport and food processing decisions.
Currently, TAHMO is installing 6 automatic weather stations in southern Uganda with the support of the Ugandan National Meteorological Authority. In the next phase, TAHMO is planning to install over 200 stations for a dense country-wide weather observation network to support Earth Network's installation of total lightning detectors. Together, these sensors will supply much-needed weather data to enhance severe weather predictions for the region. But an Early Warning System consists of more than risk knowledge and data collection, appropriate alert dissemination and educated stakeholder are necessary for transformative action to occur. To enable mass dissemination of the enhanced alert information, HNI is creating a 3-2-1 voice call-in and SMS platform that will deliver much-needed information free of charge to any mobile phone in Uganda. This free service will be accompanied by value-added products that generate revenue for the system, allowing it to become financially sustainable in the long term.
[1]http://www.wmo.int/pages/prog/wcp/cop16/documents/VCP_factsheets_3_Victoria_EN.pdf
[2]Mary Ak, Gomes C. Lightning safety of underprivileged communities around Lake Victoria. Geomatics, Natural Hazards and Risk 2014; (ahead-of-print): 1-17.