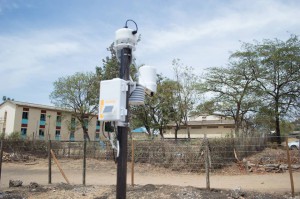 This March, Leah Tai headed to East Africa with two new weather stations to join Zachary Dunn, the East Africa Field Coordinator, and install sensors with partners in the School-2-School program. Homa Bay High, a large school with over 1,000 students that sits near the coast of Lake Victoria, was the site of the first installation. Fishing is a main livelihood in the coastal area, and when the region's rainy season starts in April the grain farming sector starts booming.
Homa Bay High's partner school, Timberline High is a large school in Boise, Idaho, where students are focusing on building Arduino-based weather stations to compare with national weather reports. The weather station installation at Homa Bay High allows students to use their new computer lab and check the local weather conditions in their front yard, comparing them to regional weather reports from the Kenya Met Service and sending the information to their partner school in Boise, Idaho.
Leah and Zach are heading to Ombeyi High School next week to install their weather station and introduce students at Ombeyi High to their partner school, Capital High in Idaho. After installing the stations at each school, physics, geography, and math teachers are shown how to access the data through an online portal at www.TAHMO.org, here they can download their site's data and allow students to track changes over time. Resources on using the data in classroom activities are provided by TAHMO, and teachers are encouraged to brainstorm new practical applications and share them through the website with one another.